Latest News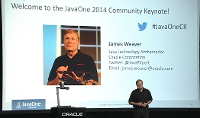 ---
Blog Johan Vos
The IT industry is known for using terminologies that are hyped. In some cases, it appears that renaming an old approach with a catchier name leads to an increased usage of that old approach. In reality however, more things have changed than just the name. "The cloud" has become increasingly popular as a term, although many developers have been using some sort of remote, scalable, hosted service for decades. But the cloud environments that are being built today, are really game-changers.
---
---
LodgON transfers its JavaFX activities into Gluon. The JavaFXPorts website is now hosted by Gluon as well.
---
Java turns 20 this week. Java is more than a programming language or a platform. It is a large part of the life of many developers. In this blog post, I try to summarize what Java means to me in 20 words.
---
Earlier this week, a partnership between RoboVM and LodgON was announced in which LodgON assists RoboVM with porting JavaFX to iOS client development, leveraging the RoboVM compiler. You can read more about the partnership in the press release and in this article on voxxed.com.