Latest News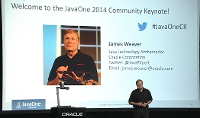 ---
Blog Johan Vos
---
LodgON transfers its JavaFX activities into Gluon. The JavaFXPorts website is now hosted by Gluon as well.
---
Java turns 20 this week. Java is more than a programming language or a platform. It is a large part of the life of many developers. In this blog post, I try to summarize what Java means to me in 20 words.
---
Earlier this week, a partnership between RoboVM and LodgON was announced in which LodgON assists RoboVM with porting JavaFX to iOS client development, leveraging the RoboVM compiler. You can read more about the partnership in the press release and in this article on voxxed.com.
---
I have uploaded a new Early Access build for JavaFX 8u40 on Android to bitbucket. You can download it here. There are a number of new features in this build that open up new possibilities.