Latest News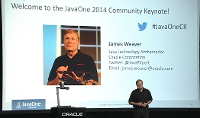 ---
Blog Johan Vos
Yesterday, it was announced that LodgON receives a Duke's Choice Award for its work on
JavaFX Ports (http://javafxports.org) and more specifically for the port
of JavaFX to Android.
---
I am glad the two session proposals I submitted for JavaOne are both accepted. I will be talking about DataFX and about JavaFX on Android. In this blog post, I try to explain why I focus on exactly these two topics.
---
Last week, Pro JavaFX 8 became available as a printed book and as an e-book. Being the lead author of this edition, I'm very excited.
---
JavaFX Ports, the initiative for supporting JavaFX on mobile, has been nominated for the Duke's Choice Community Award.
---
For the Java Enterprise world, 2014 is the year in-between. The Java EE 7 spec has been launched last year, and the Java EE 8 spec won't be released this year. At Devoxx, we'll be looking back and forward. For some companies, it is time to decide when and how to migrate to Java EE 7. For the Java Community Process, it is time to decide what should go in Java EE 8.