Latest News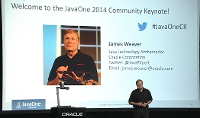 ---
Blog Johan Vos
Earlier this week, a partnership between RoboVM and LodgON was announced in which LodgON assists RoboVM with porting JavaFX to iOS client development, leveraging the RoboVM compiler. You can read more about the partnership in the press release and in this article on voxxed.com.
---
I have uploaded a new Early Access build for JavaFX 8u40 on Android to bitbucket. You can download it here. There are a number of new features in this build that open up new possibilities.
---
Yesterday, it was announced that LodgON receives a Duke's Choice Award for its work on
JavaFX Ports (http://javafxports.org) and more specifically for the port
of JavaFX to Android.
---
I am glad the two session proposals I submitted for JavaOne are both accepted. I will be talking about DataFX and about JavaFX on Android. In this blog post, I try to explain why I focus on exactly these two topics.
---
Last week, Pro JavaFX 8 became available as a printed book and as an e-book. Being the lead author of this edition, I'm very excited.